Struggling for small kitchen ideas?
Struggling for small kitchen ideas? Are you feeling restricted by a small kitchen? 
By selecting the right layout, storage solutions, colour scheme, materials and lighting you can make your kitchen look both stylish and spacious, whilst still being practical and functional.
Here are some key areas and ideas to consider to ensure you make the most of your small kitchen.
Whatever shape or size of room you have available, the secret to success when creating a design for a small kitchen is creating the illusion of space with a well thought out layout, choice of materials and space saving storage solutions.
Understanding how you will use the space is key when it comes to the layout. A kitchen design needs to minimise foot traffic by optimising your layout around the three points of the 'kitchen triangle' – the fridge, sink and oven. The placement of these key elements within a design is crucial as they ensure the kitchen is practical and functional, which is important in any busy kitchen!
Don't feel restricted by your kitchen's current layout – always start with a clean sheet of paper. Understanding what works and doesn't work in your current kitchen are key inputs into your new kitchen design to ensure the space meets your current and future needs.
Need an island alternative? If you've got the room, try incorporating a breakfast bar into your design. The beauty of a breakfast bar is that it gives you a dining option that also doubles as an extra worktop. 
Need help with your kitchen design? Why not find out about our design services.
Try and keep your kitchen colour scheme simple. Smaller kitchens can often end up feeling chaotic, and actually smaller, if the colour scheme incorporates too many colours.
A neutral colour scheme will help to open up a small kitchen and make it feel light and airy. Light colours with a strong white tint will naturally reflect and magnify light within a room which will enhance the space.
By choosing similar shades for kitchen cabinets, worktops, wall splashbacks, floors and walls is a great technique to make your kitchen look spacious, seamless, unified and without boundaries. Consider painting any standalone furniture in the kitchen the same tone to enhance the illusion of space within a kitchen.  You can then introduce some bolder colour choices in the accessories, or perhaps a feature wall, to personalise and create a unique statement. 
Colour Scheme (Small Kitchen Ideas)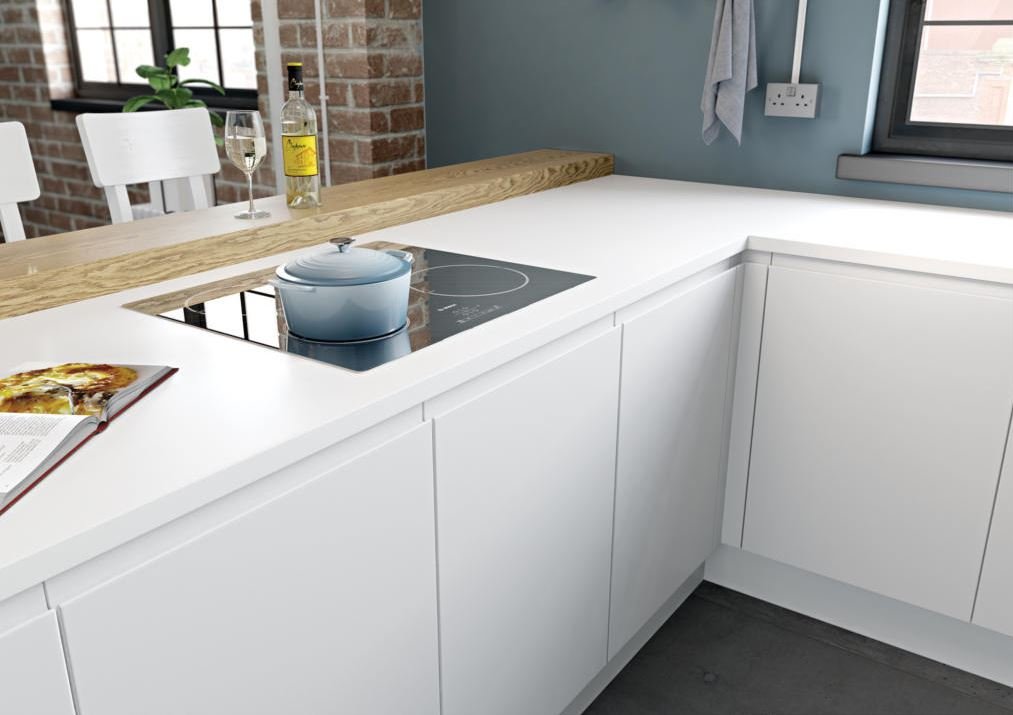 Kitchen Doors (Small Kitchen Ideas)
When it comes to selecting a kitchen door, opting for a handleless door provides a minimalist and steamlined appearance. Kitchen doors without handles signicantly reduces visual distractions within the kitchen design.
Light and reflective materials for the kitchen door are your friends in a small kitchen as it makes the room feel more spacious by amplifying the natural and artifical light within the room. 
Resist the temptation to squeeze too many cabinets in a small kitchen as this runs the risk of the room feeling overpowered and claustrophobic. 
If your space is long and narrow, consider keeping cabinets in one or two neat lines as this streamlines and opens up the space, emphasing the length of the kitchen. Tall wall units are particularly suited in narrow, gallery kitchens as it maximises storage capacity, by using the full height of the room, without sacrificing valuable worktop surface.
Open shelving can also be used to add a point of interest into your kitchen whilst increasing the available storage, especially if you would prefer to minimise tall and wall cabinets in your design. Open shelves can often have more impact in a smaller kitchen as they provide storage without blocking the movement of light within the room.
Large drawers are an effective alternative to standard full height cabinets. They provide easy access and oversized pull-out drawers are ideal for storing large pans and items that often make a home on the worktop in smaller kitchens.
Kitchen Cabinets (Small Kitchen Ideas)
Kitchen Storage (Small Kitchen Ideas)
Storage is one of the most important elements in any kitchen design and it is especially important in a small kitchen where space is at a premium. Think carefully about how you use your kitchen, the placement of key appliances and ingredients and the amount of storage you actually need in the new kitchen by reviewing critically the contents of your current kitchen cabinets to ensure the new kitchen design meets your needs.
Minimise clutter and maximise efficiency through the use of modern storage solutions to gain valuable space and ease access in lower cabinets and awkward corner cabinets with pull-out mechanisms – ideal for storing occasional utensils in a space that could otherwise go unused.
Utilise and put to work all available surfaces including windowsills, shelves and recesses by adding a selection of baskets, containers, or even fresh herbs in pots. 
Finally, think about relocating items that need to be retained by that aren't in daily use to elsewhere in your home.
Placement of key kitchen appliances is crucial to improve the flow of a small kitchen. The 3 elements of the 'kitchen triangle' (the sink, the oven and the fridge) should be located in a working distance from each other. 
Choose integrated and minimally-styled appliance models to reduce visual distractions and maintain a streamlined look. 
Keep precious worktops clutter free by stowing away appliances that you don't use every day (like blenders, slow cookers, etc ) in a pantry or cupboard.
If you want to make room for more kitchen storage space, you might want to look at placing your laundry appliances in a separate room, perhaps under the stairs or near you bathroom. Alternatively, if you have a separate washing machine and tumble dryer, you consider stacking them one on top of the other in a tall larder cabinet.
Modern multi-function appliances have meant that more and more equipment can be combined into one device, which is a great space-saving solution in smaller kitchens. Appliances that combine a tap and kettle, an oven and microwave, a hob and extractor and washing machine & tumble dryer will save valuable wall, worktop and floor space, which can be utilised for additional storage or perhaps a seating area.
Kitchen Appliances (Small Kitchen Ideas)
Kitchen Worktops (Small Kitchen Ideas)
Using a single worktop material across the kitchen will help to create the illusion of more space while providing a practical area for preparing food. Lighter coloured worktops with a strong white tint will naturally reflect and magnify light within a room which will enhance the space.
If you have the space, a small peninsula or dining table can double up as an additional food preparation worksurface when needed.
Keep worktops clutter free through the use of clever storage solutions like wall-mounted magnetic knife strips, rails to hang utensils and spice jars, etc. 
Maximise the natural light within the kitchen as much as possible by ensuring the design doesn't block the light entering the room through the windows and doors.
Task lighting becomes even more crucial in small kitchens. Continuous under wall unit lighting to illuminate the worktops combined with ceiling spotlights can maximise the working light within the kitchen.
If your kitchen has high ceilings or a seating area, perhaps around an island or peninsula, then consider a statement light fitting to enhance the kitchen design. However, if you have a standard or even low ceiling height, avoid cluttering the room with unnecessary light fittings.
Lights within the glazed cabinets or beneath the shelving can further enhance a design and eliminate dark spots within a kitchen.
Kitchen Lighting (Small Kitchen Ideas)
Kitchen Accessories (Small Kitchen Ideas)
Kitchen accessories can consume the majority of the available storage in any kitchen, so it is important to be organised and minimise your collection to ensure you only have what you need.
If your cupboard and shelves are all full, then hanging pots, mugs and tea towels onto your walls, or the edges of your shelves, is a brilliant way to create a simple and effective storage solution that also looks great. 
Don't be frightened of being bold when it comes to choosing a flooring for a small kitchen. Often striking patterns on the floor can draw and distract the eye which can make the room feel bigger. A wide chevron patterns often work well in small kitchens as the arrow effect visually stretches the room and create a focus on a specific feature.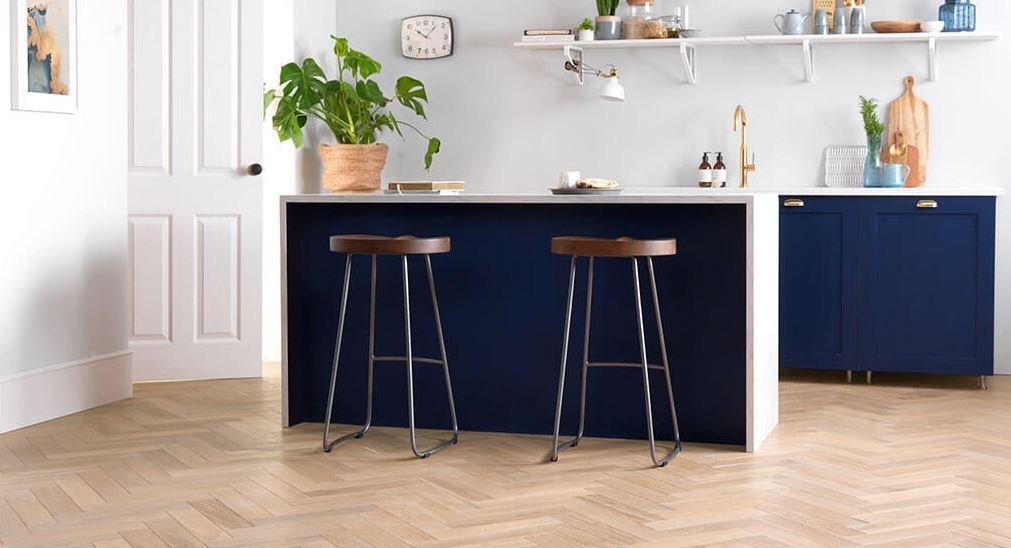 Kitchen Flooring (Small Kitchen Ideas)
How Our Design Service Work?